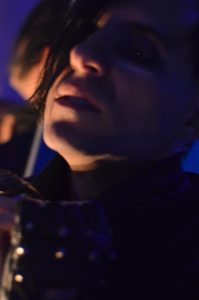 One of the richest men in the world, Charlie T. Munger, once said that; "To get what you want, you have to deserve what you want."
The path towards the life I'd always envisioned for myself became clear the moment I internalized this simple yet powerful quote. These profound words ignited a fire inside me and an incessant drive for self actualization that would forever alter the legacy I would someday leave behind.
Reinvigorated with an unrelenting passion for designing my own world, I soon discovered there was no greater feeling than bringing the visions and voices in my head to life, a feat I had already learned to accomplish as a kid.
Heavily influenced by Michael Jackson's Thriller video at only 4 years old, my childhood days were lived mimicking his dance choreographies in detail and singing his classic songs while developing a fascination for horror movie make-up and costume design.
I spent my adolescence filling up notebooks with sketches, story boards, film concepts and song lyrics that wouldn't see the light of day for many years to come. Sequentially I would serve as an art director, cinematographer and editor for 3D animated short films in college.
Today I employ my creative energy into music and video production, song writing, expressionism art and film, while helping talented artists establish and fulfill their dreams.
Relentless in all my endeavors, I strive to:
Produce & Perform Visual Arts & Sound on a Global Scale.